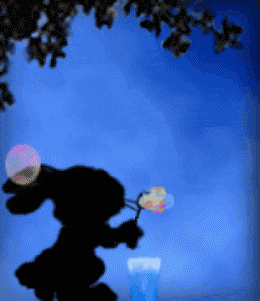 Our huMom has been kind of busy the last few days since Mitch and Sarah left. She had to shop for the Ruritan Club breakfast, then cook it, and has been trying to get the laundry and cleaning caught up. She hasn't been taking any pictures of us. The beautiful picture of the Chocolate Labrador on Saturday's blog was compliments of www.glitter-graphics.com as is the bunny blowing bubbles. Yesterday on our walk, we found a lot of

RUST

colored items - I think we'll have a lot for True Colors Thursday.
After attending church this morning, Mom and Dad are going to Rio Grande (can you guess that's a Mexican Resturant?) for lunch with Dad's sister and her husband. Maybe there will be a white box coming home with them - we love "doggie bags".
We've heard rumors of grooming and baths this afternoon. Lilly has already been hiding in her favorite spot. Mom just pulls her out of there when she gets ready to groom her. Java got his toenails done yesterday and Mom made one bleed a little, but he never seemed to notice it.
Have a wonderful day today,
XOXO
Lilly, Piper, Carrleigh and Java