We hope someone out there can help Meghan who has lost her dear Scottish Terrier.
We're doing our best "Scottie Stand" for you

in hopes that you can help us

with finding this lost dog.
We feel so sorry for him -
lost and alone and missing his peeps.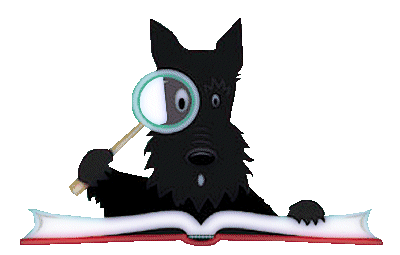 Winston-Salem Journal, N.C., Scott Sexton column: With injuries healing, victim of car wreck wants her dog
Scott Sexton
Apr 21, 2009 (Winston-Salem Journal - McClatchy-Tribune Information Services via COMTEX) --

Slowly but steadily, Meghan Nicholson is recovering from the injuries she suffered April 10 after the rental car she was driving skidding off a rain-slickened Interstate 40.
The bumps, bruises and cuts she suffered were bad enough to require two days in intensive care at Wake Forest University Baptist Medical Center.
In time, her injuries will heal.
For now, Nicholson is more concerned with finding her beloved Scottish terrier, Jack, than any lingering physical pains. The dog ran into woods near the scene of the wreck near Mocksville and hasn't been seen since.
Jack was a gift from Nicholson's father, Frank Cole Nicholson Jr., who decided that his daughter needed a dog to protect her when she moved into an off-campus apartment when she was a senior at N.C. State University.
When her father was struggling at this time last year with the end stages of prostate cancer, Jack became more than just a companion. He became a cherished link between father and daughter, one final way for a dad to look after the safety of his not-so-little-girl.
Frank Nicholson died April 27. He was 62. "Dad loved that dog from Day One," Nicholson said. "We're huge dog lovers, my dad and me. Jack was his little buddy."
Reconstructing the accident
Heading into Easter weekend, Nicholson was excited. She was going to spend the weekend at her family's home in Clemmons, and was looking forward to spending time with friends and relatives.
A friend had a bridal shower scheduled the next day, so Nicholson was focused on something besides her final year at the Charlotte School of Law.
A steady downpour and the fading daylight combined to make the drive treacherous. Nicholson's mother was worried and called to see what was taking so long. She was maybe 15 to 20 minutes from pulling into her driveway when she crashed.
"I'd just got through talking to my mom telling her where I was," Nicholson said. "Jack was sitting there beside me. And that was the last thing I remember."
The rest of the details were filled in for her in bits and pieces over the next few days.
The rental car she was driving -- she had taken her car to a shop in Charlotte and the repairs hadn't been finished in time for the trip -- hydroplaned on I-40 as she was nearing U.S. 601 in Mocksville. She clipped another car and careered into a guardrail.
Nicholson's relatives told her later that the driver's side airbag failed to deploy and that her head broke a side window. In the confusion, Jack ran off.
"He tried to bite one of the firemen, which he usually doesn't do," Nicholson said. "I think he was scared of all the sirens and because there was something wrong with me. So I know he survived the accident, which was good."
Determined to find Jack
A few hours passed before Nicholson realized that her dog was missing. While she was being treated in the emergency department, she kept asking about him, but nobody answered her right away.
"Finally my mom told me that he'd gotten away because I kept saying 'Where's Jack? Where's Jack?'" she said.
Nicholson has been out of the hospital for about a week. She's moving very gingerly, but she's determined to help in the effort to find Jack.
The family has posted fliers and made the rounds at area animal shelters and humane societies. A man called with a promising lead about a black dog he had found near Mocksville.
It turned out to be a border collie.
Nicholson and her relatives spent another 2 1/2 hours Sunday afternoon looking for Jack. She remains hopeful that the fliers and the canvassing will pay off.
After all, Nicholson is searching for more than just her pet. She's looking for the happy, tail-wagging connection to the father who picked him out.
"Even when he was really sick, Daddy just loved that dog," she said.
Scott Sexton can be reached at (336)727-7481 or at ssexton@wsjournal.com

XOXO
Lilly, Piper, Carrleigh and Java